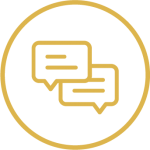 ENGLISH LESSONS
We offer an English course for children from one year of age, from October to June. It is always super funny and the babies learn while playing. It is an optional activity.

SWIMMING LESSONS
Swimming course during July at the DIR Diagonal Gym. The children go there for an intensive course of 3 days/week. Those lessons are prepared for having a lot of fun, that's why they have specialised monitors and their teachers from La Gavina swim with them too. They have a very fast adaptation and they enjoy it a lot. It is an optional activity.

OWN KITCHEN
Our kitchen service is like "the grandma's kitchen". All our food is daily prepared in our schools and is adapted to all the special needs of the children and their families (vegetarian, vegan…). The school menu it's always supervised by a paediatrician and is adapted according the time of the year.

EARLY MORNINGS AND AFTERNOON ACTIVITIES
The school offers an early morning service from 8h to 9h or an afternoon service from 17h to 18h. The children that stay during this hours can do different activities each day and they have a lot of fun!